Beautiful day!!!
This week we feature the interview of Belle&Grace's  CEO by Mara Mentor published on Business Day newspaper  of Monday, 6th July, 2015 pg 36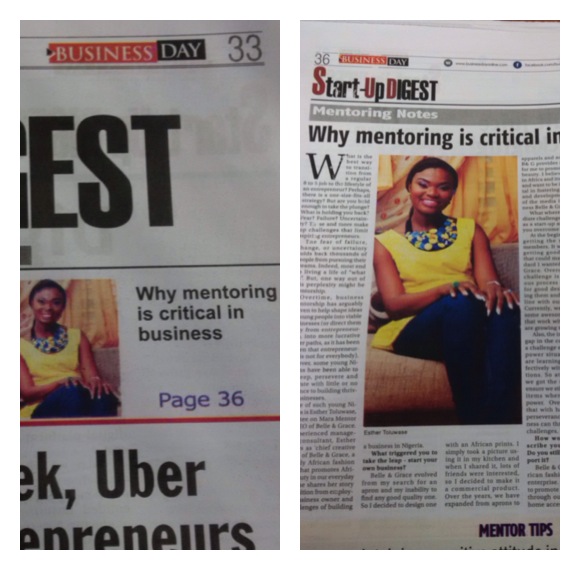 Why mentoring is critical in business
What is the best way to transition from a regular 8-5 job to the lifestyle of an entrepreneur? Perhaps, there is a one size fits all strategy? But are you bold enough to take the plunge? What is holding you back? Fear? Failure? Uncertainty? These and more make up challenges that limit aspiring entrepreneurs.
The fear of failure, change, or uncertainty holds back thousands of people from pursuing their dreams. Indeed, most end up living a life of "what ifs". But, one way out of this perplexity might be mentorship.
Overtime, business mentorship has arguably proven to help shape ideas of young people into viable businesses (or direct them away from entrepreneurship, into more lucrative career paths, as it has been proven that entrepreneurship is not for everybody). However, some young Nigerians have been able to dig deep, persevere and innovate with little or no guidance to building thriving businesses.
One of such young Nigerians is Esther Toluwase, a mentee on Mara Mentor and CEO of Belle & Grace. An experienced management consultant, Esther doubles as 'Chief Creative Officer' of Belle & Grace, a uniquely African fashion brand that promotes Africa's beauty in our everyday lives. She shares her story on transition from employee to business owner and the challenges of building a business in Nigeria.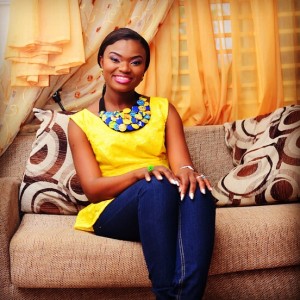 What triggered you to take the leap – start your own business? 
Belle & Grace evolved from my search for an apron and my inability to find any good quality one. So I decided to design one with an African prints. I simply took a picture using it in my kitchen and when I shared it lots of friends were interested so I decided to make it a commercial product. Over the years, we have expanded from aprons to apparels and accessories.  B& G provides a platform for me to promote Africa's beauty; I believe so much in Africa and its potentials and want to be instrumental in fostering its growth and development so one of the media is my business Belle & Grace.
What where the immediate challenges you faced as a start-up and how did you overcome them?
At the beginning it was getting the right team members; it was not easy getting good designers that could make the standard I wanted for Belle & Grace. Overcoming this challenge is a continuous process of sourcing for good designers, testing them and directing in line with our standards. Currently, we have found some awesome designers that work with us and we are growing together.
Also, the infrastructural gap in the country posed a challenge especially the power situation but we are learning to work effectively with the limitations; so at some point we got the stove iron to ensure we still delivered neat items when there is no power.  Overall, I believe that with hardwork and perseverance every business can thrive above the challenges.

How would you describe your business?  Do you still work to support it?
Belle & Grace is an African fashion and social enterprise, our mission is to promote Africa's beauty through our fashion & home accessories. All our products (aprons, tops, neckpieces and pocket squares) are beautifully made with African prints by Africans! Every week we get our clients to bring out the beauty in Africa through our #ColourMyAfrica social initiative.
Last year I took time off paid employment to work on some community based projects and grow B&G.

How do you deal with competition, marketing, quality assurance, customer satisfaction, etc.?
We learn from competition, it actually makes us stronger, the business environment is evolving so much that your competitors can be your growth collaborators and the market is big enough for us all!
Social media platforms has transformed the business marketing model, B&G utilizes these platforms like Facebook, Instagram, twitter and we have had clients contact us based on this tool. It's definitely a low cost efficient marketing tool. Highly recommended for startups!
Quality assurance is developed through the entire value chain from our supplier sourcing to the final delivery. We source for high quality African prints which we use even though they are more expensive, our designers know that we do not joke with quality in our production and we use a reputable delivery agency for outbound logistics. Proper management of the value chain is essential and that's my role.
Customer satisfaction is key for B&G and other companies especially startups. We work towards exceeding our client's expectation.  So I frequently ask myself how we can deliver more than what was requested. Also for us getting feedback is key and we learn from them.
What role has mentorship played in your business growth?
I have always had informal mentors since my secondary school and university days. Mentoring has definitely helped us in our business growth, one of my mentors Steve Harris once said "Experience is a good teacher but other people's experience is a less expensive way to learn". Before we launch a new product, we share the idea with one of our mentors who reviews it comprehensively and critically for areas of improvements. This definitely helps us to 'go to market' stronger. Another mentor guided and advised me to try a trusted delivery agency when our delivery was not running efficiently. The role of mentoring in business cannot be overemphasized and Mara Mentor is definitely helping to bridge the gap between young entrepreneurs and business leaders who have immense experience in the business world.
For more inspiring stories and resources on entrepreneurship, join the largest entrepreneurship community in Nigeria on www.mentor.mara.com or download the Mara Mentor app on Android, Apple, Blackberry, and Nokia stores. For inquiries, email: support@mentor.mara.com
We definitely recommend the Mara Mentor platform!!!
Have a fruitful week.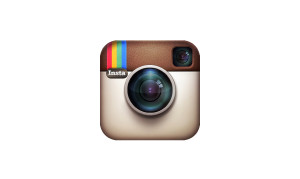 : @BelleandGraceAfrica
 :    @belleandgraceaf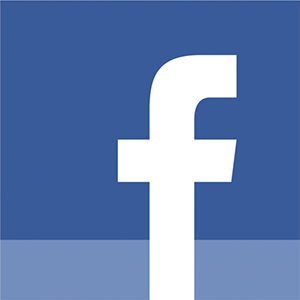 :   Belle & Grace
We will love to hear from you.